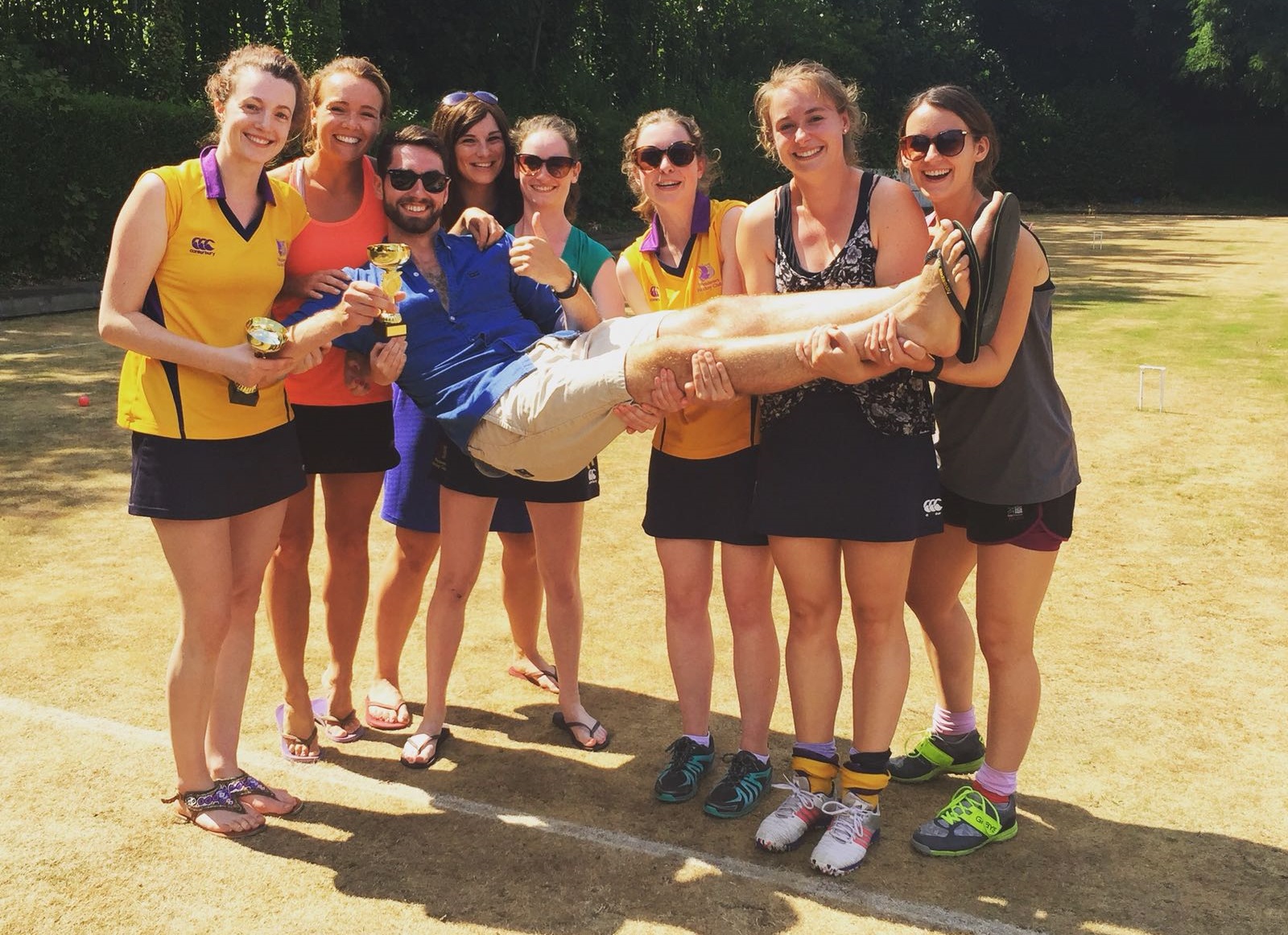 The 7-a-side mixed ability Summer League (men's and women's leagues) is back for 2019. Running every Tuesday evening from 7 May for 12 weeks (apart from the final 3 weeks, see dates below). The finals are played on a Saturday 27 July, followed by a social and BBQ at THD's Clubhouse. And after all matches there are drinks at local The Crown and Greyhound.
For any queries please contact summerhockey@thehockeyclub.co.uk
Venue:       Dulwich College
Dates:        7 May every Tuesday for 9 weeks, then
                   Weds 10 July
                   Weds 17 July
                   Weds 24 July
                   Finals: Saturday 27 July
Entry fee:  £30 per player OR £330 per team if 10 players or less
Summer League Rules >
To Apply:
THD players: a form link will be provided for you to submit your name
External teams: please contact us at summerhockey@thehockeyclub.co.uk and fill in the Application form.
 
2018 Fixtures & Results
| | | | | | |
| --- | --- | --- | --- | --- | --- |
| Date | Pitch | Time | Team 1 | vs | Team 2 |
| 1 May | Pitch 1 | 19:30 | THD Doodlebugs | 6-2 | Gamblers |
|   |   | 20:15 | THD Thunderflies | 5-1 | KAHC |
|   | Pitch 2 | 19:30 | THD Hornets | 7-3 | Academicals |
|   |   | 20:15 | THD Queen Bees | 0-4 | Wanderers |
| 8 May | Pitch 1 | 19:30 | THD Hornets | 5-2 | Gamblers |
|   |   | 20:15 | KAHC | 2-6 | THD Queen Bees |
|   | Pitch 2 | 19:30 | Wanderers | 5-1 | Academicals |
|   |   | 20:15 | THD Thunderflies | 1-3 | THD Doodlebugs |
| 15 May | Pitch 1 | 19:30 | THD Queen Bees | 1-2 | THD Thunderflies |
|   |   | 20:15 | Gamblers | 0-4 | Wanderers |
|   | Pitch 2 | 19:30 | Academicals | 7-7 | KAHC |
|   |   | 20:15 | THD Doodlebugs | 4-3 | THD Hornets |
| 22 May | Pitch 1 | 19:30 | Wanderers | 7-4 | THD Hornets |
|   |   | 20:15 | THD Queen Bees | 3-2 | THD Doodlebugs |
|   | Pitch 2 | 19:30 | THD GnTs | 6-7 | THD Jagerbombs |
|   |   | 20:15 | THD Doombars | 6-5 | THD Strongbows |
| 29 May | Pitch 1 | 19:30 | Academicals | 2-4 | THD Thunderflies |
|   |   | 20:15 | KAHC | 7-4 | Gamblers |
|   | Pitch 2 | 19:30 | THD Jagerbombs | 8-9 | THD Doombars |
|   |   | 20:15 | THD GnTs | 3-2 | THD Fosters |
| 5 June | Pitch 1 | 19:30 | THD Doodlebugs | 4-2 | Wanderers |
|   |   | 20:15 | Academicals | 3-7 | THD Queen Bees |
|   | Pitch 2 | 19:30 | THD Strongbows | 7-8 | THD Jagerbombs |
|   |   | 20:15 | THD Fosters | 8-5 | THD Jagerbombs |
|   | Pitch 3 | 19:30 | KAHC | 1-6 | THD Hornets |
|   |   | 20:15 | THD Strongbows | 4-7 | THD GnTs |
| 12 June | Pitch 1 | 19:30 | THD Jagerbombs | 10-8 | THD Strongbows |
|   |   | 20:15 | Gamblers | 6-3 | THD Thunderflies |
|   | Pitch 2 | 19:30 | THD GnTs | 8-4 | THD Doombars |
|   |   | 20:15 | THD Strongbows | 4-8 | THD Fosters |
|   | Pitch 3 | 19:30 | Academicals | 1-5 | THD Doodlebugs |
|   |   | 20:15 | THD Doombars | 9-10 | THD Jagerbombs |
| 19 June | Pitch 1 | 19:30 | KAHC | 2-6 | Wanderers |
|   |   | 20:15 | THD Thunderflies | 6-4 | THD Hornets |
|   | Pitch 2 | 19:30 | Gamblers | 1-5 | THD Queen Bees |
|   |   | 20:15 | THD Strongbows | 4-6 | THD GnTs |
| 26 June | Pitch 1 | 19:30 | Gamblers | 9-5 | Academicals |
|   |   | 20:15 | THD Doodlebugs | 4-0 | KAHC |
|   | Pitch 2 | 19:30 | THD Doombars | 10-6 | THD Strongbows |
|   |   | 20:15 | THD Jagerbombs | 9-8 | THD Fosters |
| 3 July | Pitch 1 | 19:30 | THD Hornets | 2-6 | THD Queen Bees |
|   |   | 20:15 | Wanderers | 3-2 | THD Thunderflies |
|   | Pitch 2 | 19:30 | THD Doombars | 2-1 | THD Fosters |
|   |   | 20:15 | THD Fosters | 1-1 | THD GnTs |
|   |   |   |   |   |   |
| | | | | | |
| --- | --- | --- | --- | --- | --- |
| 7 July | Pitch 1 | 10:15 | Ws 5th: THD Hornets | vs | Ws 6th: Gamblers |
|   |   | 11:15 | Ws 3rd: THD Queen Bees | vs | Ws 4th: THD Thunderflies |
|   |   | 12:15 | Ws 1st: THD Doodlebugs | vs | Ws 2nd: Wanderers |
|   | Pitch 2 | 10:15 | Ms 3rd: Jagerbombs | vs | Ms 4th: Fosters |
|   |   | 11:15 | Ms 1st: GnTs | vs | Ms 2nd: Doombars |
|   |   | 12:15 | Mixed | vs | Mixed (fun friendly) |